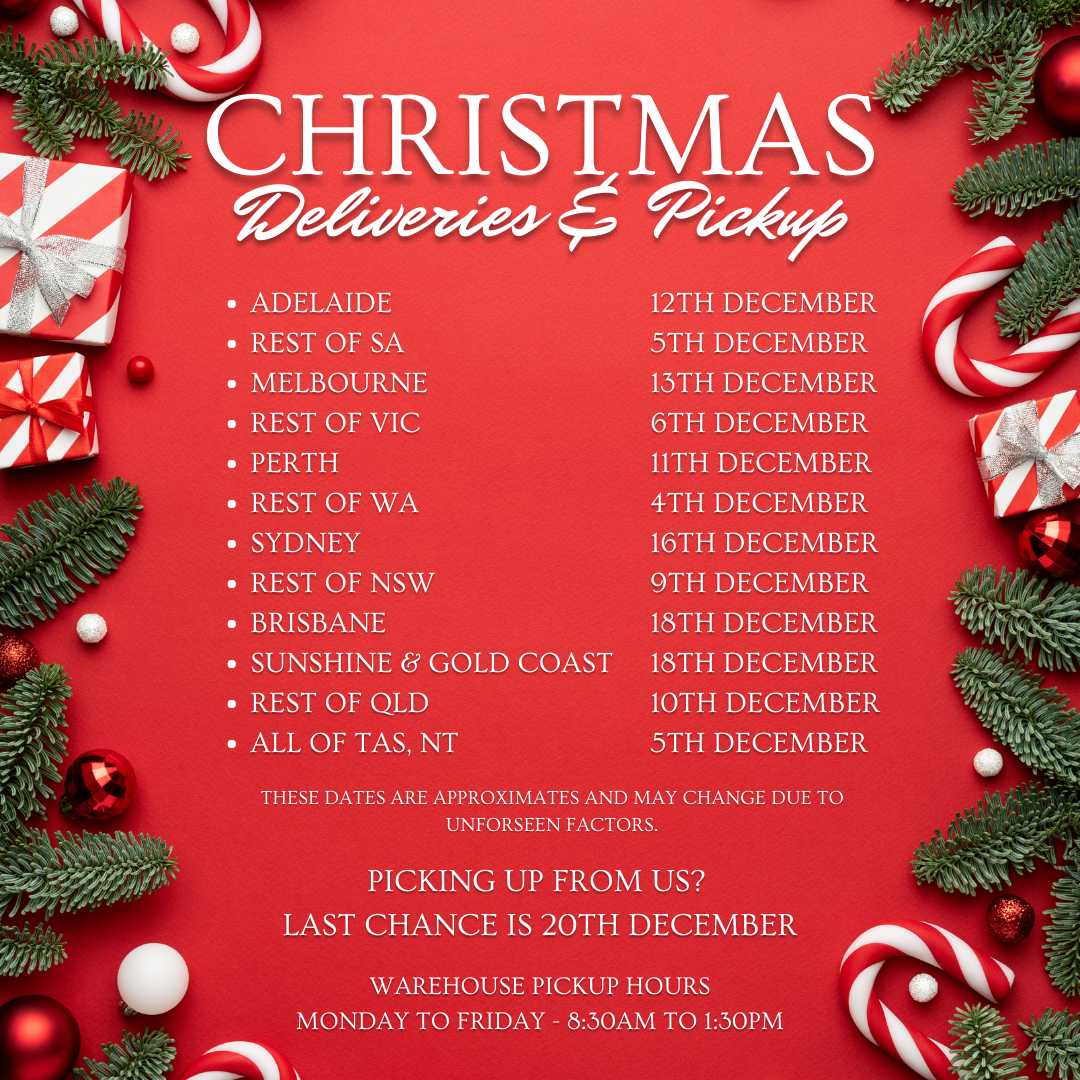 Delivery & Pickup Info
These timeframes are applicable to our Standard Delivery service, which covers Road Freight. Our shipping services encompass nationwide delivery through both road freight and express courier options. It's important to note that occasional delays may occur, especially during peak seasons like Christmas and major sale events. Additionally, external factors such as natural disasters like fires or floods can also impact delivery schedules. While we make every effort to minimize delays, some factors are beyond our control. Therefore, please consider the timeframes provided here as approximate estimates.
Delivery
When can I expect my order to be sent out?

We understand how eager you are to receive your order! Rest assured, we strive to dispatch your order with care and efficiency. Typically, we aim to ship your order within 1 to 3 business days, taking into consideration the availability of the items you've chosen. In most cases, we'll have your order ready for shipping by the next day. However, during busy periods, it may require an additional day to ensure everything is prepared perfectly. As soon as your order is ready for
dispatch, we'll promptly send you a Dispatch Notification containing your tracking details. If you haven't received it, please kindly check your spam folder, just in case it landed there accidentally. We're committed to keeping you informed every step of the way.
Where will my order be delivered to?

Regrettably, the drivers from our delivery partners, Northline Freight, Direct Freight or our local couriers, are limited to delivering your order solely to a curbside or ground-level location, or to the front of your property, provided that accessibility permits. If your residence is situated on a steep incline or faces restricted access, you will need to arrange to collect the cartons from the front of your property. Please be aware that our couriers are not equipped to deliver large items upstairs, enter homes, or offer installation/removal services. For items exceeding 40kg, assistance maybe required for unloading if a tailgate service can not be utilised. A valid contact number is essential for the delivery process.
Can I update my address once my order has been shipped?

Once your order has been shipped, we unfortunately cannot make any changes to the address or modify your order. We understand that sometimes circumstances change, but during the delivery process, our couriers have specific systems in place that make it challenging to make address adjustments.

If you still wish to update your address while the package is in transit, please note that there may be a redirection fee. Our dedicated couriers will need to go through extra steps, such as relabeling and updating their systems to accommodate the changes.
Why is it important for someone to be home for delivery?

We kindly request that someone is present at the delivery address for large and bulky items, such as Cubby house cartons. This ensures that you can personally inspect the number of cartons received and check for any signs of damage upon acceptance. Your presence helps us ensure a smooth and satisfactory delivery experience.
Do I need to assist with delivery?

Tailgate delivery is mandatory for all sizable shipments dispatched via Northline Freight. This is achievable only when a truck with a tailgate has ample space, can operate a pallet jack smoothly, and is considered safe for the task. If safety is compromised or accessibility becomes problematic, assistance may be sought. Hide & Seek Kids make every effort to utilise the most efficient delivery methods, but occasionally, drivers may require support. Despite employing a tailgate, deliveries can only be made to the front most point of the property.
What happens if there's nobody at home to accept the delivery?

If there won't be anyone available to receive the delivery, the freight company won't be able to proceed with the delivery. We genuinely care about ensuring a smooth delivery experience for you, so we strongly advise providing your best contact number when placing your order. This way, the driver can easily get in touch with you to coordinate a convenient delivery day.

Please note that if a delivery is scheduled but nobody is available to accept it, the freight will be returned to the depot. As a result, there will be additional charges for a re-delivery. We want to make sure you receive your order without any issues, so please make sure to be available or make alternative arrangements to avoid any inconvenience.
Will I get a phone call before my package is delivered?

Rest assured, Northline cares about our convenience. They will reach out to you before delivering your package, either by phone call or text message. They will work with you to schedule the delivery and ensure that someone will be available to receive it on the designated day.
What should I do if my delivery is delayed?

If you're experiencing a delay with your delivery, we understand how frustrating that can be. The best course of action is to get in touch with our trusted delivery partner, Northline, by calling them at 1300 722 534. Don't forget to provide them with your consignment number so they can quickly assist you. Their friendly and helpful staff will investigate the situation and provide you with more details about your delivery.

Please note that while Hide & Seek Kids does its best to assist, we have limited visibility into the delivery process. Our team can only provide you with the information that is available on the tracking website. Nonetheless, we'll do everything we can to support you and ensure your delivery reaches you as soon as possible.
What should I do if I receive fewer cartons or items than I expected?

If you happen to receive fewer cartons or items than you were expecting, we understand your concern. We kindly ask you to carefully go through all the cartons listed on the shipping docket and compare them with the ones you actually receive.

Please take a moment to count all the cartons and check for any other discrepancies. If you notice any missing items, we recommend making a note on the delivery paperwork and reaching out to us through our contact page.

Rest assured that once we are made aware of the situation, we will promptly investigate the missing carton and take the necessary steps to ensure it is delivered to you as soon as possible. Your satisfaction is important to us, and we are committed to resolving any issues that may arise.
What should I do if my delivery arrives damaged?

At Hide & Seek Kids, we understand how important it is for your order to arrive in perfect condition. If you happen to receive a damaged package, we're here to assist you. It's crucial to take the following steps:

Note the damages on the delivery paperwork: When you receive your delivery, carefully inspect the package for any signs of damage. If you notice any issues, please make a note of them on the delivery paperwork.
Do not reject the delivery. It is quicker for Hide & Seek Kids to send you replacement panels. This will cause major delays and any additional costs for re-delivery of non-damaged parts may be passed on to you.
Report the damages within 4 business days to us: It's important to inform us about any damages as soon as possible. Please report the damages within four business days of receiving your delivery. Before contacting us, please refrain from assembling the items.
Capture photos: If you come across a damaged carton, we kindly request you to take clear photos of the damage. Additionally, annotate the delivery paperwork to provide specific details about the damage you observed.
Contact us with the necessary information: Once you have taken photos and noted the damages, please reach out to us via our "Contact Us" form. Include the photos, your order details, and a description of the damage. We will swiftly address the issue and ensure a satisfactory resolution.

Remember, while damage to the packaging does not necessarily mean the item inside is damaged, it's crucial to thoroughly inspect both the carton and the product. If you notice any damage to the item itself, please notify us promptly with a detailed description and attached
photos. We will arrange for a repair, replacement parts, or a replacement item based on the specific issue. At Hide & Seek Kids, we are committed to rectifying any concerns and ensuring your satisfaction.
Should I reject my damaged delivery?

Do not reject the delivery. It is quicker for Hide & Seek Kids to send you replacement panels. This will cause major delays and any additional costs for re-delivery of non-damaged parts may be passed on to you.
Is it possible to receive my delivery over the weekend or after regular business hours?

We understand your eagerness to receive your package, but unfortunately, our courier partners for Northline deliveries are unable to accommodate weekend or after-hours delivery requests. Deliveries are scheduled exclusively on weekdays from 9am to 5pm. We apologise for any inconvenience this may cause.
Contact Information for deliveries
Pickup
Where & when can I collect my order?

Location: Unit 3/356 Bilsen Road, Geebung, QLD 4034
Operating Hours: Monday to Friday from 8 am to 1 pm

Our facility is accommodating for trailers and trucks, including B-Double vehicles.
Can I collect my order on the weekend?

Regrettably, we are closed during the weekends. Pickup arrangements must be made within the hours of 8 am to 1 pm from Monday to Friday.
What should I bring when collecting my order?

It's essential to have your order number ready to expedite the process.

Additionally, remember to pack straps, rope, or any other items necessary to secure your order effectively.
Will my order fit in my car?

Please visit our website's product pages for detailed information on carton dimensions and weights.

It's crucial to ensure that your order can be loaded without any difficulties, as we are unable to disassemble cartons or individually fit pieces into your vehicle.
I still need to pay for my order, can I do this at collection?

If you have an outstanding payment and prefer to use a credit/debit card, please complete the payment online beforehand. Unfortunately, we don't have a card terminal on-site.

If you'd like to pay with cash, please try to bring the correct amount as we have limited change available.
Is there a specific window for order pickup?

You have 14 days to collect your orders. If we haven't received any communication from you during this period, we'll reach out to remind you about the pickup. However, if 14 days pass without collection, your order will be automatically refunded.
Loading your car/ute/trailer?

We're here to help load your car, ute, or trailer safely. Unfortunately, we can't break down carts to fit items individually into cars. If a Hide & Seek Kids team member considers it unsafe, we may decline to help with the loading. Please make sure all cartons are properly secured.